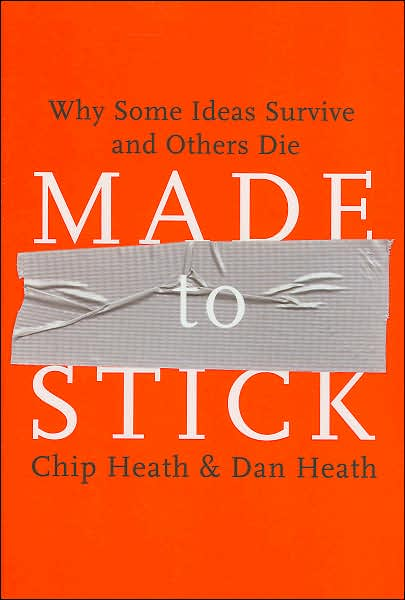 As the leader of a company you have many responsibilities, but there is nothing more important than conveying your vision effectively (especially at an early stage startup). No matter how good you are at conveying your vision to your team, your customers or the media,Made to Stick can teach you how to do so even better and understand why you may have failed in the past.
I'd like to highlight two of the core concepts from Made to Stick that are key for any startup leaders out there.
The Curse of Knowledge
Ever hum a tune and no one else knows what it is? Ever have this perfect idea in your head, but can't get others to understand it? That's the curse of knowledge. Much of Made to Stick is dedicated to helping you avoid that challenge and learn that with understanding of an idea comes a divide between yourself and those lacking those pieces of knowledge that make sense to you.
There are many keys to making your idea come through, but the biggest is clear, concise communication. An example from the book involved a problem on the floor of a manufacturer; a team of engineers could not understand why the employees on the floor could not understand how to implement a change they designed. The problem was that what makes sense to engineers in a drawing doesn't make sense to employees working with the actual machines. Simply going down to the manufacturing floor and talking to them was the biggest step in solving the problem.
There's much more to creating sticky ideas, which is why Made to Stick pushes for the concept of SUCCES...
The key to a "Sticky Story": SUCCES
The authors poured over hundreds of ideas to try to find common themes. They were able to make a great acronym from the patterns they found:
Simplicity -
Your idea has to be simple and straightforward. Lawyers make 2 or 3 points at the end of a case, not 10; no one would remember them otherwise. CEOs should do the same when conveying key concepts to their team. Remember KISS: keep it simple, stupid!
Unexpectedness -
You need to surprise people with part of your idea. As long as it breaks out of common thought conventions, you'll be in good shape. What this means is that you need to pique people's curiosity...they need to say "wait, that's not what I expected!"
Concreteness -
When conveying ideas to others, you need to choose words and concepts that people can easily picture. It's why no one can remember a jargon-filled mission statement, but urban legends that remind you of that hidden away spot in your hometown stick in your mind. Also, by using concrete terms we can all visualize, you increase the likelihood that everyone will see the same thing.
Credibility -
If you're eminently qualified to talk on a topic (aka- considered an expert in the field) you have a huge advantage as long as people know you, or the person you're quoting, has this credibility. For the rest of us, the key is to bring it down to people. As Ronald Reagan asked during the election vs. Jimmy Carter, "ask yourself if you are better off today than you were four years ago?" By doing so, he made each person their own expert, because he knew for most the economy had taken its toll on others.
Emotions -
Are you making people have a feeling about your idea? You need to make an emotional connection to make it last. Think about some of your strongest memories in your past; I bet most of them involve strong emotions whether it was anger, fear, joy or disgust. You'll notice politicians use it all the time around elections like when Al Gore used a woman who had only enough money for dog food after paying for her prescription drugs as an example.
Stories -
Hearing a collection of facts does not inspire other people. Rather, it is much more powerful to wrap your idea in a story. It makes it more concrete and emotional as well as more likely to be remembered. Next time you need to need to convey a core idea, try to build a story around it and see for yourself.
Made to Stick walks through each of the parts of SUCCES in detail to help you craft your idea into one that will stick. I highly recommend this book to anyone who needs to convey ideas to others or just wants to better understand how some ideas are so much more effective than others.